~ ONE JOURNEY ~
~ There is only one journey: going inside yourself. ~
- Rainer Maria Rilke


Shopping Teams ~ Monday, April 13, 2009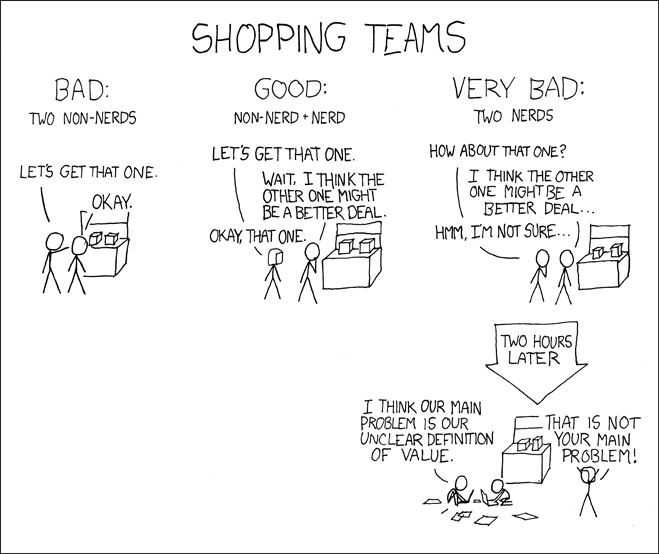 This pretty much sums up Tom's and my shopping style. Depending on the product, we're either "good" or "very bad". From xkcd.com.

::Posted by Anduril Elessar @ 2:10 PM::


::
0 comments
P r o f i l e
Anduril Elessar
::aka::
Susan Deefholts

::my complete profile::
I n v o c a t i o n
"O for a Muse of fire, that would ascend the brightest heaven of invention..."
- william shakespeare
R e l e a s e s
F o o t p r i n t s
YouTube Symphony Orchestra @ Carnegie Hall
The Rise of the e-PODs
A Muse, a Genius, a Daemon
Death of the Professional Writer Greatly Exaggerat...
House of Spirits: The New Musical?
Schroeder's Beethoven
You Tube Symphony Orchestra
Mediating Chaos: The tension underlying creativit...
Dangerous Roads
The City of Words by Alberto Manguel
L i n k s
::my alter ego blog::
::now reading/watching blog::
::jorrie's blog::
::tamara's blog (rhymes with camera)::
::margin:exploring modern magical realism::

~ my photo sites ~
::picasa::
::flickr::
::webshots::

M e m o r i e s
:: December 2004 :: December 2005 :: January 2006 :: February 2006 :: March 2006 :: April 2006 :: May 2006 :: June 2006 :: August 2006 :: September 2006 :: October 2006 :: December 2006 :: January 2007 :: February 2007 :: March 2007 :: April 2007 :: May 2007 :: June 2007 :: July 2007 :: August 2007 :: September 2007 :: January 2008 :: February 2008 :: March 2008 :: April 2008 :: May 2008 :: June 2008 :: August 2008 :: September 2008 :: October 2008 :: December 2008 :: January 2009 :: February 2009 :: March 2009 :: April 2009 ::
C r e d i t s
style in obscuro
image from DayDreamGraphics.com
html coding by Ning
V i e w ' D
Free Blog Counter